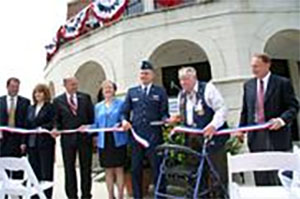 Grand Opening of the American Freedom Museum!
On May 15, 2010, the American Freedom Museum celebrated its grand opening with a keynote address by Congressman Louie Gohmert.
Pictured at the ribbon cutting are (left to right) Brook Hill School Headmaster Rod Fletcher, Bullard Mayor Teresa Adams-Wilks, Congressman Gohmert, Tyler Mayor Barbara Bass, 1st Lt. Scott Roark (USAF), Gunner's Mate First Class Joe Fritcher (USN retired), and Brook Hill Founder Stephen Dement.
"It is impossible to chart courses for the future without understanding the journeys of the past."
The American Freedom Museum on the campus of The Brook Hill School exists for three reasons: (1) to honor our veterans and active military and recognize the sacrifices they have made to secure our freedoms, (2) to educate this generation and future generations about our rich heritage, and (3) to inspire others to exemplify the courage and character as those featured in the Museum have done.
Over 20 years ago, it became clear that in most schools teaching American history and instilling in our youth an appreciation for the freedoms we enjoy had taken a back seat to other academic pursuits. To address this matter, the idea for the American Freedom Museum was born. It was my desire to create an environment where our history can be learned and experienced through an innovative curriculum that uses original and significant artifacts from our history.
My father, Wayne Dement, who was a sergeant in the Army Air Corps during World War II and my high school history teacher, Bob Wyche, instilled in me a love for history and inspired me to begin collecting and assembling the artifacts and information displayed in the Museum. Hearing stories about my dad's experiences and those in his squadron made me realize the incredible sacrifices that members of this greatest generation made for us. These men and women and their sacrifices need to be remembered and honored. Mr. Wyche had the ability to inspire his students to immerse themselves in the period they were studying and engage the characters of the time. We need more of his type of teaching. How can we as a nation prepare for the future if we fail to understand our past?
The process of collecting artifacts for the Museum has been both rewarding and challenging. I started collecting items from the Civil War, and that eventually expanded to collecting items from the Revolutionary war up to the War on Terrorism. The items have come from many sources, such as auctions, military dealers and other collectors nationwide. It was very challenging trying to collect an original signed document from each President, which took me about 10 years to complete. We also periodically will have a veteran, family member or an individual that is currently serving in our armed forces who will graciously donate items for us to use in the different galleries of the Museum.
It was my desire that the facility be a place where anyone could come and visit and leave with an appreciation for our heritage. One of my favorite things is to see people's faces light up because they have made a connection between the artifact and the period that it is from.
Today, the Museum welcomes students and visitors of all ages to a facility of 15,000 square feet and housing over 650 artifacts on display. For those taking part in one of the Museum courses, the learning experience can be approached from almost any academic discipline – math, science, English, etc.
The Hall of Presidents includes a signed document by every president from George Washington through our current president. Some of the more interesting items in this area of the Museum include a lock of Washington's hair, a Senate tally sheet from Andrew Johnson's impeachment trial, and the order signed by President Eisenhower adding the words "under God" to the Pledge of Allegiance.
The Hall of Freedom chronicles the major conflicts in which our nation has been involved. In each of the 15 galleries, the conflict is defined with artifacts, maps, photos, and life-size vignettes. Some of the more notable items include a musket used by an American patriot at the Battle of Lexington in 1775, one of Andrew Jackson's cannons from the Battle of New Orleans, the sword of Confederate General Albert Sydney Johnston, the flag that was surrendered at Galveston when it fell to the federal forces, a 1943 Wyllis jeep, a C-47 fuselage where you can actually board and through technology experience what it was like for those paratroopers on June 6, 1944, an M-29 tank, a bullet-riddled helmet that belonged to an American soldier on Omaha Beach, the flag that once flew over Dachau concentration camp, a Huey helicopter flown by the 48th Assault Helicopter Company in Vietnam, and a large highway sign from Baghdad emblazoned with Saddam Hussein's portrait.
It is our hope that through the Museum, one can not only learn about our history but also come away with a deeper understanding and appreciation for our great Country.
Stephen Dement
Founder, American Freedom Museum
and The Brook Hill School